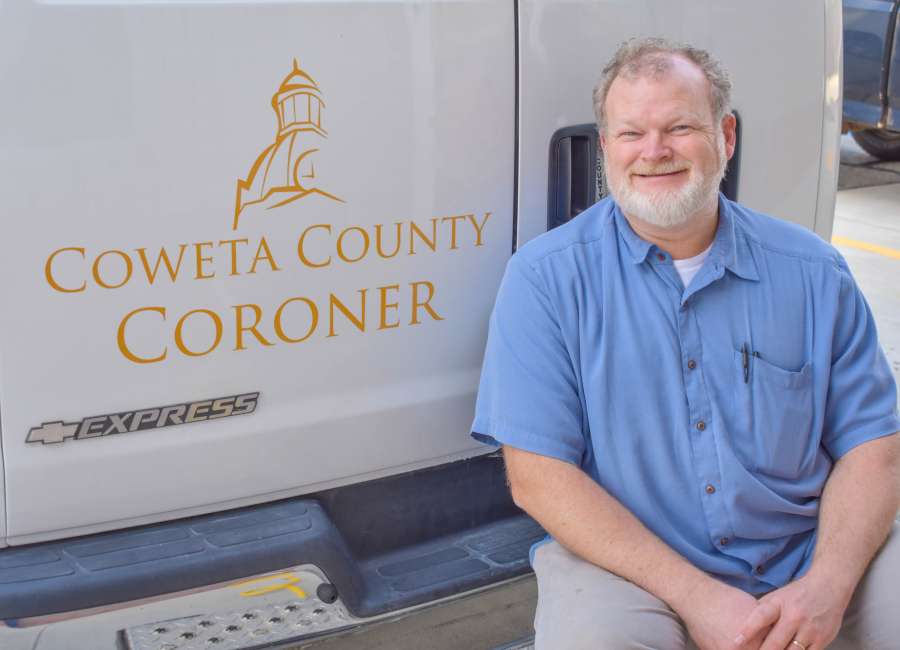 It's definitely not the job for everyone.
When Richard Hawk ran for the office of coroner in 2012, he wasn't on a mission to get rich or gain political favor, but rather to find new ways to apply a lifetime of experience as an emergency medical technician.
For 27 years, Hawk practiced as a medic – both on the ground and in the air for life flight. Last November, he ran unopposed for his second term as coroner.
"It's just where God led me," Hawk said. "I went from helping the living to speaking for the dead."
His background in emergency services provides him with a perspective that many other coroners may not possess. In the state of Georgia, coroners aren't required to have any kind of medical background.
Taking his knowledge of disease processes from being a paramedic, Hawk said the role as coroner is different, but the scenarios are often the same.
"When you're flying on air life, you see pretty traumatic stuff  – the worst of the worst," He said. "Now, they're the ones that die, but I can see how things happen."
But as coroner, a normal work schedule is now a thing of the past.
From farm to death scene
Hawk and his family reside on a small farm in Sharpsburg, raising hogs, cows and chickens for fun. There is never any shortage of work to be done, but like life itself, time is never a given.
It's a life spent always on-call, and no matter where he goes, Hawk carries two cellphones and a pager. When the Hawk family goes out, he always takes a separate car.
"I never start a project that I can't finish in half an hour," he said. "I know I'm going to someone's house, so I've got to wash the farm off before I leave."
When he's not on scene or at home, Hawk can be found at his office on International Parkway. The small, but relatively new coroner's office also doubles as a county morgue with the ability to house up to 17 bodies.
In January, Gov. Nathan Deal appointed Hawk to the Georgia Child Fatality Review Panel. Since becoming coroner in 2012, Hawk has served on the local review panel in Coweta and is honored to be serving on the state level as well.
"It's a great feeling, but it's also a huge accomplishment for Coweta County," he said. "I'm one coroner out of 153 counties that have coroners, and to be chosen out of those people, I'm extremely proud."
The state board and county reporting committees review all injury, sleep-related, and unexplained or suspicious deaths of children under the age of 18. The purpose of the program is to prevent further child injuries and deaths.
Trebor Randle, GBI special agent in charge of the Child Fatality Review Unit, said Hawk's passion for protecting children was one of the primary reasons for his appointment to the panel.
"When children are involved, he applies all his training and experience to ask the right questions and report the information to us accurately and follow up to sense that it doesn't happen again," she said. "Not only does he have a great work ethic, but he's passionate about fatalities."
Randle made the recommendation for Hawk to serve on the state panel after several high-profile deaths in Coweta County that highlighted the dangers of adults sleeping in the same bed with infants. Accidental smothering or broken bones are frequent risks.
Trying to prevent deaths
Currently in the state of Georgia, the No. 1 cause of "preventable" deaths in infants is what experts term "unsafe sleep." This means the inquiry or investigation into the infant's death revealed that the child was not sleeping alone, on its back and in a crib.
Quite often, these conditions of bed-sharing are running parallel with drug use and neglect, according to Hawk.
In 2015, there were approximately 18 deaths among those under 18 years old – five of those involved bed-sharing in adult beds. Hawk estimated that the cases in 2015 were around 80 percent preventable.
Last year, there were 14 child deaths, and Hawk estimated that around 60 percent of them could have been avoided.
"Without a doubt, the bed sharing remains the most preventable cause of death for children," Hawk stated. "You don't see many car-seat fatalities anymore and I think that's a direct result of seat-belt laws. The same thing might need to happen with the bed sharing, but some might think that's government overreach."
For Hawk, and those who know him, his ability to freely speak his mind goes hand-in-hand with his passion for saving lives and working to ensure preventable tragedies never happen again.
Allison Boone has been with the Coweta County District Attorney's Office for six years as a victim's advocate. Prior to that, she worked with the Division of Family and Children's Services here in Coweta.
Along with Hawk, Boone serves on the local child fatality review panel which is composed of members of law enforcement, prosecutors, the juvenile court, the school system, court-appointed special advocates, and emergency medical technicians.
The group also conducts a child protocol meeting each month. When the state social workers based here have a case of physical or sexual abuse, committee members begin the process of examining what can be done ensure the cycle of abuse is broken.
"With his medical background, he adds a great perspective that you might not normally get from a coroner," Boone said. "He can look at accidents like burns or marks and determine if they might not be accidental. He's very vocal about what he believes, which is good. We need someone like Richard who is able to stand up and express their concerns."
A proactive coroner
In her opinion, Hawk is a proactive coroner that goes above and beyond to ensure that each case is seen through to the very end.
"Having a coroner like that is pretty rare," Boone said. "He's attended every protocol meeting since he took office and always stays in contact with us when we have a child death so we can get our report going. From talking to other agencies, their coroners aren't like that at all."
Despite the grim nature of his job, Hawk takes pride in his work and shares his day around the dinner table just as freely as anyone else. The change from emergency medical technician to coroner isn't a broad stretch when it comes to relaying the fragility of life, according to Hawk.
"I don't sugarcoat much, but nothing really bothers them either," he said. "I think you need to know the truth even if it hurts, and I want my children to know what I see out there and avoid the mistakes I've seen others make."
Between his days and nights spent on life flight and now as coroner, family members always have found time to hug and kiss on their way out the door. In a life filled with uncertainty, leaving the house is a given, but returning home never is.
"You never know when it's going to be your time," he said. "This job never lets you forget that."
****
Clay Neely: [email protected], @clayneely